Prosinac će biti veseo i radostan, ali ne zbog hrpe novih igara već zbog izbora najboljih gamerskih ostvarenja u godini, blagdanskih sniženja i novih najava velikih igara.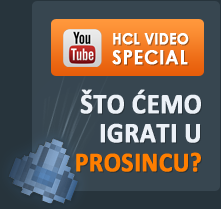 NEKOLIKO IZDVOJENIH
03.12. Rainbow Moon (Vita)
05.12. Broken Sword: The Serpent's Curse
06.12. Gran Turismo 6
06.12. Scribblenauts Unlimited (Wii U)
06.12. Bravely Default: For the Sequel
11.12. Rekoil
13.12. Wii Fit U
XX.12. The Walking Dead: Season 2
Pregled svih novih recenzija
Pregled svih novih najava
Pregled svih novih special tekstova

Thief story trailer otkriva Garretove motivacij
Nadam se da će i ovaj Thief imati onu prepoznativ...

Pogledajte Dying Light PS4 gameplay demo
Još jedan Dead Island.

Pogledajte Dying Light PS4 gameplay demo
onaj prikaz kostiju kad udariš je glupost,prikazu...
The Witcher 3 ponovno oduzima dah novim trailer
vrijeme je da vise predem te witchere redom :D, i ...

Call of Duty: Ghosts prestigao FIFA-u 14 na vrh
VI NEMATE POJMA! JA IGRAM NA PENTIUM4 3.0 GHZ 2 GB...

The Witcher 3 ponovno oduzima dah novim trailer
Slažem se, veća konkurencija, bolje igre :D
Odg: Koji MMO igrate?
Draka u 02:30
Odg: Thief
Cole u 02:26
Odg: Total War: Rome II
Cole u 02:23
Odg: Total War: Rome II
doktor1 u 01:10
Odg: 4fun
Armin44 u 00:32
Lumia 710
veki1994 u 00:23
Pregled svih novih gamerskih downloada
Pregled svih novih šifri
Pregled svih novih gamerskih wallpapera