Popis svih do sada najavljenih PS4 igara koje izlaze u 2014.
---
Preko 100 igara već je najavljeno za izlazak na PlayStationu 4 tijekom ove godine, a Sony je odlučio sve ih popisati na jednom mjestu.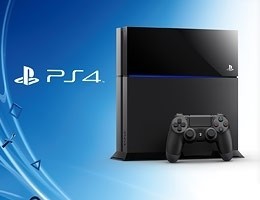 Sony je na službenom PlayStation blogu objavio spisak svih igara do sada najavljenih za izlazak tijekom 2014. godine, istaknuvši kako se na listi nalazi preko 100 igara, a još će ih biti dodano s vremenom. Tu su Watch Dogs, Destiny, The Evil Within, Batman: Arkham Knight, DriveClub i mnogi drugi. Riječ je svakako o finoj literaturi za podsjetiti se što točno vlasnici nove Sonyeve konzole mogu očekivati ove godine. Od gomile navedenih naslova, što mislite koji će biti najuspješniji prodavač konzole?
Već izašle:
• Awesomenauts Assemble! Ronimo Inc
• Basement Crawl Bloober Team
• Dead Nation: Apocalypse Edition SCE
• Don't Starve: Console Edition Klei Entertainment
• Outlast Red Barrels Inc.
• Rayman Legends Ubisoft
• Stealth Inc: Ultimate Edition Curve Studios
• Strider Capcom
• The Lego Movie Videogame Warner Bros.
• Thief Square Enix
• Tomb Raider: Definitive Edition Square Enix
• TowerFall Ascension Matt Makes Games
Izlaze ovog mjeseca:
• FEZ Polytron
• inFAMOUS Second Son SCE
• Metal Gear Solid V: Ground Zeroes Konami
• Stealth Inc. Ultimate Edition Curve Studios
• Steamworld Dig Image&Form
• Strike Suit Zero Born Ready games
Proljeće:
• 1001 Spikes Nicalis
• Anomaly 2 11 Bit Studios
• Bound by Flame Focus Home
• CastleStorm: Definitive Edition Zen Studios
• Cel Damage HD Finish Line Games
• Child of Light Ubisoft
• Daylight Atlus
• Divekick: Addition Edition Iron Galaxy
• Final Fantasy XIV: A Realm Reborn Square Enix
• Guacamelee! Super Turbo Championship Edition Drinkbox Studios
• KickBeat: Special Edition Zen Studios
• Lego The Hobbit Warner Bros.
• Mercenary Kings Tribute Games
• MLB 14: The Show SCE
• Octodad: Dadliest Catch Young Horses
• Oddworld: New 'n' Tasty Oddworld Inhabitants
• Pure Pool Ripstone LTD
• R.B.I. Baseball 14 MLB AM
• Ready to Run Beatshapers
• Secret Ponchos Switchblade Monkeys
• Sportsfriends Die Gute Fabrik
• Switch Galaxy Ultra Atomicon
• The Amazing Spider-Man 2 Activision
• The Swapper Curve Studios
• Titan Invasion Curve Studios
• Trials Fusion Ubisoft
• War Thunder Gaijin Network
• Watch_Dogs Ubisoft
• Wolfenstein: The New Order Bethesda
Ljeto:
• CounterSpy SCE
• Destiny Activision
• Final Horizon Eiconic Games
• GALAK-Z: The Dimensional 17 Bit Games
• Helldivers SCE
• Murdered: Soul Suspect Square Enix
• Pavilion Visiontrick
• PixelJunk Shooter Ultimate Double Eleven
• Sniper Elite 3 505 Games
• The Elder Scrolls Online Bethesda
• The Evil Within Bethesda
• Race the Sun Flippfly
• Transformers: Rise of the Dark Spark Activision
• Velocity 2X Futurlab
Jesen:
• Dragon Age: Inquisition EA
• Evolve 2K Games
• Hotline Miami 2: Wrong Number Devolver Digital
• Rocketbirds 2: Evolution Ratloop
• The Witness Thekla, Inc.
Zima:
• Guns of Icarus Online Muse Games
• Hyper Light Drifter Heart Machine
• Ray's the Dead Ragtag Studios
Datum još uvijek nepoznat:
• Alien: Isolation Sega
• Assault Android Cactus Witch Beam
• Aztez Team Colorblind
• Backgammon Blitz The Fyzz
• Batman: Arkham Knight Warner Bros.
• Blast 'Em Bunnies Nnoo Pty
• Cosmic Star Heroine Zeboyd
• Defense Grid 2 505 Games
• Diablo III: Ultimate Evil Edition Activision Blizzard
• Dragon Fin Soup Grimm Bros
• Driveclub SCE
• Dying Light Warner Bros.
• Dynasty Warriors 8: Xtreme Legends Complete Edition Tecmo Koei
• EA Sports UFC EA
• Energy Hook Happion Labs
• forma.8 MixedBag
• Foul Play Media Tonic
• Hohokum SCE
• Home Benjamin Rivers Inc.
• Legend of Raven Nicalis
• Lords of the Fallen Bandai Namco Games
• Mad Max Warner Bros.
• Middle-earth: Shadow of Mordor Warner Bros.
• Minecraft Mojang
• N++ Metanet Software
• NBA 2K15 2K Sports
• Nuclear Throne Vlambeer
• OlliOlli Roll7
• The Order: 1886 SCE
• Pier Solar and the Great Architects Watermelon Games
• Planetside 2 SOE
• Putty Squad Maximum Games
• Road Not Taken Spry Fox
• Rogue Legacy Cellar Door Games
• Samurai Gunn Teknopants/Maxistentialism
• Savant Ascent D-Pad Studio
• Shantae: Half-Genie Hero WayForward
• Sherlock Holmes: Crimes & Punishments Frogwares
• Starbound Chucklefish
• The Binding of Isaac: Rebirth Nicalis
• The Crew Ubisoft
• Tom Clancy's The Division Ubisoft
• Transistor Supergiant Games
• Tropico 5 Kalypso Media
• Valiant Hearts: The Great War Ubisoft
• Volume Mike Bithell
• Worms Battlegrounds Team17
• WWE 2K15 2K Sports
• Super Exploding Zoo Honeyslug