Prosinac će biti veseo i radostan, ali ne zbog hrpe novih igara već zbog izbora najboljih gamerskih ostvarenja u godini, blagdanskih sniženja i novih najava velikih igara.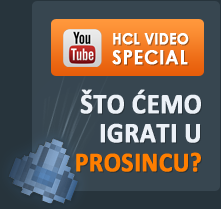 NEKOLIKO IZDVOJENIH
03.12. Rainbow Moon (Vita)
05.12. Broken Sword: The Serpent's Curse
06.12. Gran Turismo 6
06.12. Scribblenauts Unlimited (Wii U)
06.12. Bravely Default: For the Sequel
11.12. Rekoil
13.12. Wii Fit U
XX.12. The Walking Dead: Season 2
Pregled svih novih recenzija
Pregled svih novih najava
Pregled svih novih special tekstova

Call of Duty: Ghosts prestigao FIFA-u 14 na vrh
VI NEMATE POJMA! JA IGRAM NA PENTIUM4 3.0 GHZ 2 GB...

The Witcher 3 ponovno oduzima dah novim trailer
Slažem se, veća konkurencija, bolje igre :D

Thief story trailer otkriva Garretove motivacij
Otvorim 5 tabova i najednom mi krenu neki pomijesa...
Thief story trailer otkriva Garretove motivacij
vrhunski

Deadfall Adventures recenzija
sasvim korektna igra, mogla je biti i malo teza
Novi South Park: The Stick Of Truth uči nas ba
hahah jedva cekam ovo bice ovo prava komedija :D
Pregled svih novih gamerskih downloada
Pregled svih novih šifri
Pregled svih novih gamerskih wallpapera