Igra riječi – kakve citate pamtimo u videoigrama?
---
Jeste li primijetili da u videoigrama češće pamtimo glupe i isprazne citate umjesto onih iz kojih možemo izvući stvarnu pouku?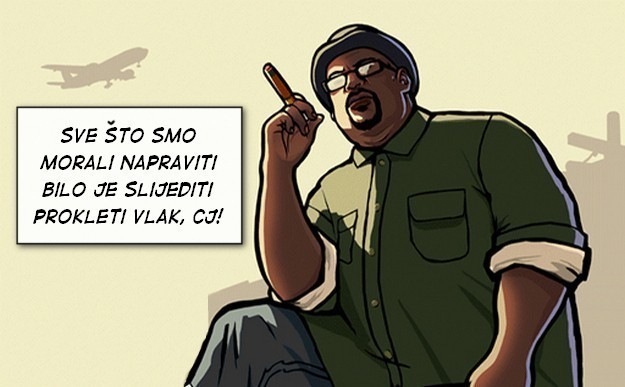 Citati su svugdje oko nas i od njih je praktički nemoguće pobjeći. Citati se u popularnoj kulturi šire potpomognuti društvenim mrežama, literaturom, usmenim putem ili nekim drugim kanalima. Neki nas kultni citati potiču na razmišljanje (Shakespearov "Biti ili ne biti – to je pitanje."), stoljećima nakon što su napisani. Drugi pak čine komunikaciju određenih supkultura (Lucasov "May the Force be with you."). Treći su pak postali uzrečice koje koristimo bez da nužno znamo njihovo izvorno značenje (Cezarov "Kocka je bačena."). Bez obzira u koju svrhu se koristili, ti citati iz povijesti, književnosti i drugih vrsta umjetnosti sa sobom nose određenu poruku zbog koje su i ostali zapamćeni.
Videoigre često želimo strpati u kategoriju umjetnosti, no kada ih promatramo po razini citiranosti, tu su nekako na samom dnu. Je li to opravdano ili potencijal citata iz videoigara jednostavno nije prepoznat? To je pitanje na koje ćemo pokušati pronaći odgovor u ovom tekstu.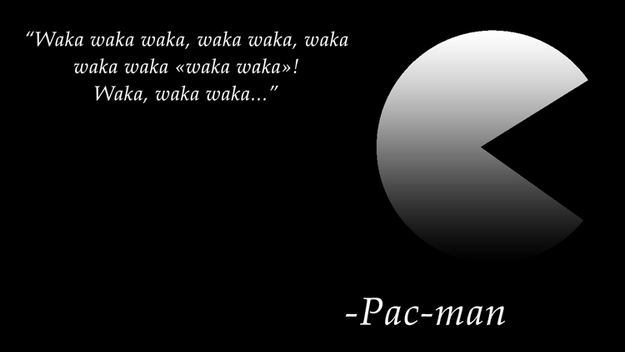 Dva se razloga izdvajaju kada pričamo o tome zašto se citate iz videoigara ne cijeni jednakim mjerilima kao i citate iz ostalih djela. Prvo, većinski dio populacije stava je da su videoigre neozbiljne, isključivo za razbibrigu ili pak za djecu. Drugo, videoigre nisu ni upola toliko ukorijenjene u našem društvu koliko su to knjige, pjesme, filmovi i druga umjetnička djela, prvenstveno zbog toga što su stare tek pola stoljeća.
Treba istaknuti da su igre na ozbiljnosti priče i same radnje počele napredovati tek osamdesetih godina prošlog stoljeća. Istina je da je i ranije bilo pokušaja u tom smjeru, ali 80-ih dolazi do mnogo većeg vala popularizacije videoigara kao oblika zabave. Vrijedi napomenuti i to da kod videoigara još uvijek postoji generacijski jaz između ljudi koji ih ne razumiju niti ih igraju, te onih koji ih konzumiraju duži niz godina.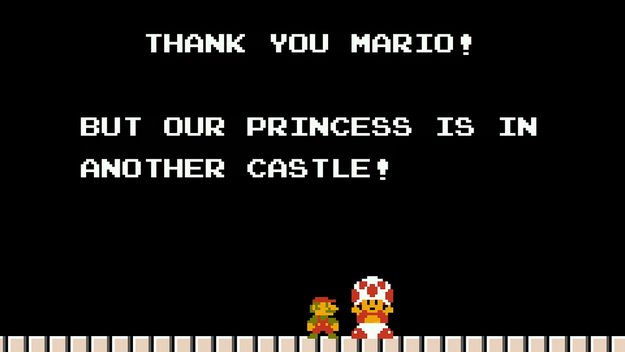 Sve te različite generacije ljudi u zadnje se vrijeme nalaze na zajedničkom raskrižju zvanom internet te  kroz krinku i šminku društvenih mreža svjedoče međusobnom nerazumijevanju i površnom percipiranju. Vama možda nije jasno što vaša tetka pronalazi u stihovima Željka Joksimovića, a njoj nije jasno kakve vi to glupe memeove iz videoigara stavljate na svoj profil.
Upravo u tom formatu internetskog memea krije se jedan od razloga zašto mislimo da u igrama nemamo što pametno za čuti. Fenomen memea eksplodirao je u popularnosti na društvenim mrežama posljednjih desetak godina i proširio je neke do tada manje poznate pojmove, scene, likove, ali i citate iz videoigara s naglaskom na humoristični dio, što je i osnova ovog formata. Apsolutno sve što se provuče putem memeova postaje "smiješno", predmetom ismijavanja ili dobroćudnog humora s kojim se neka grupa može asocirati.
Kako se popularnost pojedinog memea povećava, tako on direktno ili indirektno utječe na stav pojedinaca i grupa o nekoj temi, a tekstovi  unutar memea postaju upamćeni kao citati. S obzirom da na društvenim mrežama "lajkove" kupe predvidive, većinom i apsurdne stvari, videoigre imaju pregršt materijala za takvo što, bilo da se radi o novijim naslovima ili onim starijim. Lako je eksploatirati nešto što ima bugove ili na silu želi biti ozbiljno. A popularnost eksploatacije takvih sadržaja smanjuje prodor onih koji zapravo nose neku pouku.
Jedan od klasičnih citata koji je toliko loš da ga svi znamo dolazi iz igre Zero Wing iz 1989., čiji je port za europsko tržište ostao upamćen po lošem prijevodu. "All your base are belong to us" postao je kultni citat i sinonim za  loše prijevode u igrama 80-ih i 90-ih godina. Iako je igra u svoje vrijeme dobila poprilično dobre ocjene, upravo je ovaj citat iz igre postao ono po čemu se ta igra danas pamti. Bilo je kasnije i gorih prijevoda od ovoga, ali je Zero Wing uzet na zub.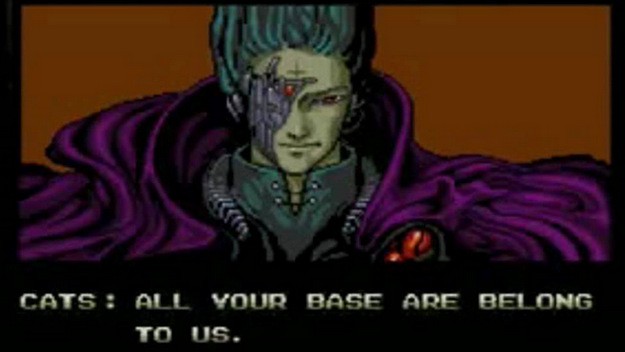 Malo recentniji primjer nalazimo kod kultne igre S.T.A.L.K.E.R.: Shadow of Chernobyl iz 2007. godine, smještene u post-apokaliptičnom svijetu  Černobila nakon izmišljene druge nuklearne katastrofe. Od tog post-apokaliptičnog svijeta, općenite atmosfere igre, efekata i likova, ono što je do današnjih dana najuspješnije preživjelo u kolektivnom sjećanju igrača je jedna fraza, popularni "Cheeki Breeki". U originalu radi se o jednoj od fraza koju često izgovaraju pripadnici Bandita, a glasi: "A nu chiki-briki i  v damki!". Ona nema točno određeno značenje ali zbog zvučnosti i čestog ponavljanja u igri ovaj citat postao je jedan od kultnih materijala za memeove.
Ponavljanje nekih izjava u igri slavu je dalo i citatima iz Elder Scrollsa, posebice Obliviona. "Stop right there you criminal scum!" javlja se kao jedna od fraza koju izgovara čuvar prilikom kršenja zakona od strane igrača. Ovaj citat počeo se koristiti u situacijama na internetu gdje je došlo do određenog kršenja onoga što se smatra zakonom. Ovaj kultni RPG bio je prepun sadržaja, likova, imao je odlično napravljen svijet a od svih mogućih izgovorenih citata, od kojih su neki bili dubokoumne prirode, tek je navedeni nadživio igru.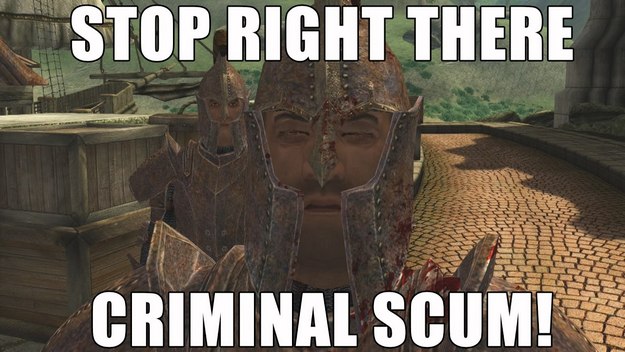 Zašto uglavnom pamtimo ovakve, donekle glupave citate, umjesto onih poučnih? Kako je već navedeno, u igrama je veći dio njih snimljen s namjerom da budu uključeni, odnosno pokrenuti nakon što igrač izvrši ili ne izvrši određenu akciju. Ukoliko primjerice jednu te istu radnju više puta ponavljamo, citat koji je napravljen da bude reakcija na tu našu radnju će se više puta i ponoviti.
Primjerice, kod GTA: San Andreas velika je većina nas više puta zaredom zbog neuspjeha ponavljala misiju gdje CJ i Big Smoke moraju pratiti vlak i pobiti članove bande na njemu. Nakon svakog neuspjeha u misiji, Big Smoke ponavlja "All we had to do, was follow the damn train, CJ!". Zbog broja ponavljanja i popularnosti igre, taj citat je ostao u sjećanju svih koji su makar jedanput prelazili igru.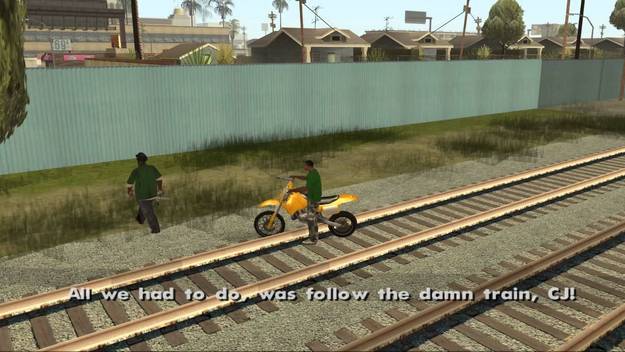 Kod ovakvog tipa igara teško je očekivati veći broj poučnih citata. S obzirom da su GTA i Elder Scrolls najčešće među vrhuncima dosega videoigara, pitanje je gdje uopće možemo pronaći neke pametne konstatacije. Neki od najboljih citata pronalaze se prije svega u igrama koje imaju određenu radnju kojoj je i cilj uvući igrača u igru te izazvati određenu povezanost s jednim ili više likova unutar igre, odnosno igara koje žele biti više od puke zabave. Primjeri bi bili RPG-ovi, akcijske avanture i slično. Zbog navedenih razloga u tim igrama možemo i pronaći primjere nekih od najpoznatijih citata s poukom ili poticajem za razmišljanjem.
"Rat; rat se nikad ne mijenja." – narator, Fallout serijal
"Mi smo sastavljeni od tisuća dijelova s tisućama funkcija koje rade kao jedno da bismo živjeli. Ako samo jedan komad našeg nesavršenog stroja ne radi, život se gasi. To nas tjera da shvatimo kako smo krhki, kako smo manjkavi." – Ingun Black-Briar, The Elder Scrolls V: Skyrim
"Stoj u pepelu bilijuna mrtvih duša i upitaj duhove koliko vrijedi čast. Tišina je tvoj odgovor." – Javik, Mass Effect 3
Razvoju videoigara posljednjih se godina pridodaje sve veća pažnja. Tehničke mogućnosti napreduju te se kod razvoja sve češće zapošljavaju osobe koje se bave scenarijima, pisanjem dijaloga i naracije. S obzirom da se samoj priči pridodaje sve veća pažnja, za očekivati je da se u igrama njihova kvaliteta povećava, što kao posljedicu može imati i iznjedrivanje sve kvalitetnijih te poučnih citata koji bi nam mogli ostati duže u sjećanju. Čak i neovisno o tome koliko nam "Cheeki Breeki" zvučao zabavno i lako pamtljivo.
U ovom tekstu naveli smo samo nekoliko kultnih citata iz videoigara, no znamo da ih ima daleko više. Podijelite zato s nama svoje favorite u komentarima ispod teksta.