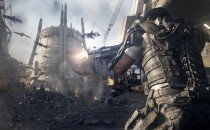 31
Tko zna kako će svijet izgledati u 2050. godini. Ali zahvaljujući novom Call of Dutyju znamo barem da će Kevin Spacey u budućnosti izgledati isto kao i danas.
Call of Duty: Advanced Warfare

vijesti
53
Nakon što su iskritizirali i slabo pokupovali Infinite Warfare, igrači i fanovi se okreću budućnosti i špekulacijama oko idućeg CoD-a koji bi pak mogao biti smješten u prošlosti.
Call of Duty: Advanced Warfare

video
Nema rezultata
Call of Duty: Advanced Warfare

specijali
Nema rezultata